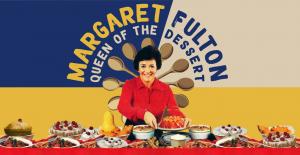 Margaret Fulton was Australia's first cooking superstar. She sold 1.5 million cookbooks and changed the way Australian's ate.
This joyous musical traces her life from working in a factory during WWII, to living in the rocks as a single mother, succeeding in a man's world, falling in and out of love, making a fortune then almost losing it.
First staged in 2012 in St Kilda the musical was described by the Australian as "terrific", in the Herald-Sun as "hilarious" and in The Age as "infectious fun."
The second season in Sydney staged by David Spicer Productions trading as the Bondi Theatre Company attracted similar acclaim.
"Delightful." Gaz Simpson Eastside Radio.

"Fun & often poignant show." Meredith O'Reilly Performer/Producer.

"This musical brims with love and energy and is almost like chicken soup for the soul.....a fun night out and a love letter to Australian ingenuity.....every bit as tasty and kitsch as Fulton and her delectable, sweet treats." AU Review.

"Margaret Fulton "livened up the nation and taught them how to cook with a little inspiration and the Margaret Fulton book". Words of the enjoyable lively musical, Margaret Fulton Queen of the Dessert, ring true to generations of Australian and English housewives." Sydney Arts Guide Review.
The musical is now on a national tour.
The musical is based on the biography of Margaret Fulton I sang for my supper. In 2018 Margaret, aged 94, said of the musical.
"I always dreamed of being a bluebell dancer unfortunately my legs did not make the grade, so I took up cooking instead."
The musical has been rebranded Margaret Fulton: I Sang For My Supper.
Complete video perusals of the show is available on request.
Video
Authors
Related Shows
Photos
Cast
Margaret Fulton
Bea
Male 1 : Various Bosses, Dennis, Paul Hamlyn
Male 2: Bosses, Trevor, Canberra Manager, Michael McKeag
Isabella - Margaret Fulton's mother and Ensemble
Female Ensemble/Mandrake the magician
Sample Script
Instrumentation / Rentals
Piano and Backing track. Optional small band
Production Costs
16% of Box office