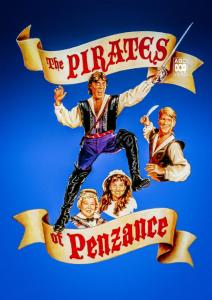 " As dazzling ...as the Best of Broadway" Brisbane Courier Mail.
Essgee's unique brand of Gilbert and Sullivan first stormed across Australia in 1994.
It's now being performed all over the world including productions across the UK, North America and even in Germany.
This adaptation has more laughs and a more modern sound than traditional versions.
The most beautiful arias remain untouched - but the chorus numbers could be described as poperetta.
A unique feature is the women's chorus. They are known as"The Fabulous Singlettes," who mimic pop trios from the 1960s. They sing is in '50s/'60s-style close harmony. For community theatre the three part harmony can be divided up amongst a large female chorus. The Singlettes are rather trampy. After they enter, the first thing they do is sit down on the rocks and smoke cigarettes (while Daddy's not looking).
The audience goes ga-ga over the mega-mis finale.. All the characters re-enter and sing souped-up reprises of their signature numbers.
PERUSAL AND LICENSING IN THE USA AND CANADA CLICK HERE.
PERUSAL AND LICENSING IN THE UK CLICK HERE.

Video
Authors
Related Shows
Photos
Plot / Synopsis
The Plot
Our story begins as Frederic, a young man with an unswerving sense of duty, is about to reach his 21st birthday and conclude his long apprenticeship to the infamous Pirates of Penzance. His good-hearted but hard-of-hearing nursemaid Ruth reveals that she has made a most disastrous mistake. When Frederic was just a boy she misunderstood her employer's directive and apprenticed him to a pirate instead of a pilot, as intended. Frederic tells the Pirate King (a dashing figure who never preys on orphans since he himself has had the misfortune to be one) that his freedom will be devoted to exterminating all pirates and that it would be better for the pirates to leave before midnight when his indentures are over. The pirates depart immediately and Frederic is left alone with Ruth, the only woman he has seen in years. Ruth pleads with Frederic to take her with him, but her case is lost when a bevy of very young, attractive women appear.
Frederic appeals to the girls to overlook his pirate apparel and his past profession, but no one will listen until the beauteous Mabel appears. Frederic and Mabel fall in love instantly. The pirates return and Mabel warns them that their actions will not go unpunished since her father, the guardian of all of these young ladies, holds the exalted rank of Major-General. The Major-General is forced to pretend that he is also an orphan in order to win their sympathy. Although he fools the Pirate King, the Major-General cannot rest easy with his troubled conscience.
Meanwhile, Frederic is launching an attack on the pirates with the cowardly assistance of the police. But Ruth and the Pirate King interrupt him with a most ingenious paradox - Frederic was born in leap year on the 29th of February and, in terms of actual birthdays, is only 5 instead of 21. Frederic, slave of duty that he is, rejoins his former associates, and the police are left to attack the pirates on their own.
The Pirates seize the Major-General and the police are quickly defeated. But the Sergeant of Police charges them to yield 'in Queen Victoria's name' and the pirates cannot resist this overpowering appeal.
Ruth then reveals that the pirates are actually 'noblemen who have gone wrong'. Mabel and Frederic are happily united forever with the unqualified blessings of the Major-General.
The Pirates of Penzance
Musical Numbers
Act 1
Gilbert & Sullivan Opening Company
Pour, O Pour the Pirate Sherry Pirate King, Samuel, Frederic & Pirates
When Frederic Was a Little Lad Ruth
Oh, Better Far to Live and Die Pirate King & Pirates
Oh, False One, You have Deceived Me! Ruth & Frederic
Climbing Over Rocky Mountain The Daughters
Stop, Ladies, Pray! Frederic & Daughters
Oh, Is there Not One Maiden Breast Frederic & Daughters
Poor Wandering One Mabel & Daughters
What Ought We to Do? The Daughters
How Beautifully Blue the Sky Mabel, Frederic & Daughters
Stay, We Must Not Lose Our Senses Frederic, Daughters & Pirates
Hold, Monsters! Mabel, Samuel, Major-General, Daughters & Pirates
I Am the Very Model of a Modern Major-General Pirate King, Major-General* & Ensemble
Oh, Men of Dark and Dismal Fate Company
Act 2
Oh, Dry the Glistening Tear Mabel & Daughters
Then Frederic Major-General & Frederic
When the Foeman Bares his Steel Sergeant, Mabel, Police & Daughters
Now for the Pirates' Lair! Frederic, Pirate King & Ruth
When You had Left our Pirate Fold Ruth, Frederic & Pirate King
Paradox Frederic, Ruth & Pirate King
Duty, Duty*# Frederic, Ruth & Pirate King
Away, Away! My Heart's on Fire Ruth, Pirate King & Frederic
All is Prepared Mabel & Frederic
Stay, Frederic, Stay! Mabel & Frederic
No, I Am Brave Mabel, Sergeant & Police
When a Felon's Not Engaged in his Employment Sergeant & Police
A Rollicking Band of Pirates We Pirates, Sergeant & Police
With Cat-Like Tread, Upon Our Prey We Steal Pirates, Police & Samuel
Hush, Hush ! Not a Word Frederic, Pirates, Police & Major-General
Sighing Softly to the River Major-General & Ensemble
Finale 1880 Company
Finale 1994 Company
* Additional lyrics by Melvyn Morrow
Cast
The Pirate King.
Samuel, his Lieutenant
Frederic
Ruth, a Pirate Maid
Maj.General Stanley's Daughters The Fabulous Singlettes

Mabel
Major-General Stanley
The Sergeant
Chorus - Pirates. Maidens.
Instrumentation / Rentals
Small Set. 3 Keyboard, Percussion, Drums, Bass. Large Set. 2 Keyboards,4 Woodwind,Horn in F, 3 Trumpets,2 Trombones, Electric Bass, 3 Percussion.
Production Costs
In Australia and New Zealand 16% of Box Office Gross. Small Band set rental $550. Large Band set rental $770. UK. See www.playsandmusicals.co.uk USA and Canada https://www.stagerights.com/allshows/essgees-the-pirates-of-penzance/ Other Territories: By negotiation.