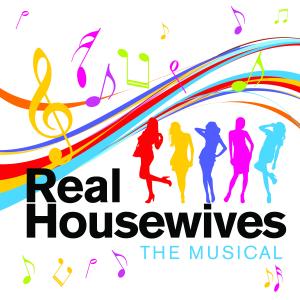 It's the real housewives as you have never seen them before. Localise the title for your community then grab a glass of pinot and watch the girls lie, cheat and sing their way up the social ladder.
Hiding behind skin care lines and charities these women have it all or do they?
Find out what the smiles are hiding when the gloves come off.
"A tuneful, hilarious, show-stopping musical spoof. I loved every second!" – StageScene LA.
"Uproarious —a smash hit!" –The Examiner/AXS Entertainment
"An hilarious romp!"–Southern California Life Magazine.
Video
Authors
Photos
Plot / Synopsis
Act I
Grab the furs out of the closet and call up the nanny it's time to " Meet the Wives" ! Penny, Lulu, Beezus, Babette, and Joanne are the realest housewives around. They're entrepreneurs, they're humanitarians, they're super sassy mamas, and they're dying to tell you all their juiciest secrets over a few hefty glasses of pino. Regrettably, they may have to reschedule, as they're all a little tied up at the moment attending the funeral for dearly departed housewife Poppy Grace Von Vandenberg. She knew perhaps a few too many of the others'secrets and mysteriously ended her own life as the others began pushing her slowly out of their circle. While the housewives mourn their loss, we find out that Grace, in her last will and testament, declared that Joanne should be the new head housewife. Beezus, who might be the eldest housewife if she ever told anyone her actual age, is no less than outraged. Joanne stands by Grace's decision since, as Joanne herself must admit, she is " Amazing."
In the next scene, the housewives gossip about the new head housewife. For the most part they are skeptical of her credentials, with Babette, Joanne's longtime best friend, being the exception.
The housewives aren't surprised, saying that she's been living in Joanne's shadow as long as the group has been together. Joanne arrives and Babette proves she's her own woman by quitting their entrepreneurial partnership, The Tiny Mat, and starting her own: The Mini CarpetTM, which comes in a bearskin.
We transition to everyone's favorite daytime shopping program on the PGV channel, where Bud Beedle gives us a proper " PGV Intro."
Today he is featuring both Babette's and Joanne's latest products at the same time. Of course no diva worth her artisanal French sea salt splits airtime with anyone, and these two ladies are no exception asthey bare their claws on live TV (" Strap It On").
Tensions run high as the housewives prepare for Joanne's anniversary with her husband Anderson. Lulu, Penny, Babette and Beezus gossip about the PGV incident, Joanne's anniversary, and Lulu's steamy texts she's been getting from a mystery lover. They all meet at the anniversary party where Joanne grandly professes her love for Anderson, her trustworthy husband and her biggest (financial) supporter. The festivities all go as planned until a process server arrives and catastrophe strikes—Anderson and Joanne have been summoned to court on over 30 counts of fraud! What's more, as Penny's husband Theo discovers, Anderson's gone and he's taken the Porche, his luggage, and his sombrero.
Joanne falls into despair. Anderson left her with two kids, a mountain of debt, and no financial prospects. It appears she may have to (gasp!) get a job. Lulu arrives on the scene, happy to help her friend with some good advice: if you don't like something, "Change It" ! Lulu explains how well it worked for her when she left her unfaithful
Sultan husband, changed her nose (many times), and became the exotic, drop-dead gorgeous housewife we now know and love. Joanna's a little nervous about changing her life, so she decides to meet up with the housewives at their usual yoga/aerobics class, where she finds out that her spot in the front row next to the studly aerobics instructor has been taken (" Bounce It" ).
As Joanne goes over her finances—or lack thereof—with her accountant, she receives a mysterious phone call. The caller on the other end of he line tells her to release all the housewives'secrets on a website called sexliesandsecretwives.com. The mystery caller offers $10,000 per article, but Joanne can't bring herself to hurt her friends. Meanwhile, her accountant suggests that Joanne (gasp again!) get a job and tells her that he knows someone at Barney's, where she was once a proud customer. While handing in her application, Joanne runs into the other housewives, who figure out that she's applying for a job. After Beezus and the others dish out their most scathing insults, Joanne dials up the mystery caller and decides she's ready to sell her secrets ("Act One Finale" ).
Act II
Act Two opens on Beezus'charity function for half-deaf dogs, the " Bitch of the Ball" pageant. The divas debate over Babette's controversial ensemble, until their phones ring with new Google Alerts. The pageant comes to a screeching halt as the housewives learn that someone has exposed one of their deepest and darkest secrets. Lulu, the exotic sultana, has been giving Babette's husband the so-called royal treatment behind her back!
Babette is furious and the Bitch of the Ball pageant is reduced to a catfight. Things heat up as the housewives find themselves at the center of more scandals than ever before. As they reflect on their backstabbing friends and unreliable husbands, they tell us that even pretty people are bullied, nevertheless assuring themselves that they're going to soldier through (" Chin Up").
Meanwhile, back at Joanne's house, a sexy, sombrero-clad Anderson arrives to reconcile with his wife. They dance and rekindle their spicy suburban romance(" Tell Me You've Missed Me" ), but Joanne finally rejects him after all he put her through. Anderson understands, gracefully takes his sombrero, and leaves.
Seeing the heartbreak she caused, Joanne realizes that maybethe housewife game isn't all it's cracked up to be, and that to break the chain of lies she's going to have to " Break the Rules." No more plotting, no more gossiping, no more selfishness, Joanne knows it's time to be a good friend. She runs into Babette at the hair salon where she learns that the other housewives no longer accept her in the group after Lulu's affair, and that her kids have lice.
Joanne tells Babette she's sorry for her and her lice-infested children, and the twobecome best friends again (" I Forgive You" ).Though Joanne and Babette have reconciled, it appears the rest of the group are no longer on good terms. One day, they simultaneously receive mysterious invitations in gold trim inviting them on an all-expenses-paid trip to Morocco: an offer no real housewife could refuse (" Meet the Housewives Reprise [Moroccan Version]" ).
Once the ladies start living it up housewife-style in the Sahara, it appears they are all friends once again. They visit a fortuneteller to find glimpses of the future, but little do they know they will all be confronting their past. They apologize for the things they've done to each other, with Joanna revealing that she wrote the articles on sexliesandsecretwives.com. The other housewives are shocked, but forgive her as she forgives them for abandoning her. While the girls have been treated to a smorgasbord of grade-A gossip so far, the fortune teller has the juiciest secret of them all. He reveals himself to be none other than Poppy Grace Von Vandenberg herself!
After moving to Morocco to get away from the housewife lifestyle, Grace kept an eye on her former friends and called Joanne with the offer to writefor sexliesandsecretwives.com as her way of breaking the housewife rules (" Act Two Finale" ).
Seeing her friends grow distant, she invited them to her 50th birthday in Morocco to bring them all together. The housewives are back, bonded by a friendship stronger than any blonde, 14-inch hair extension will ever be ("Meet the Wives Finale" )
Cast
Babette Bellini: Female, 30s, Joanne's best friend/frenemy, is desperately trying to hold onto her marriage to real estate mogul Royce Bellini, who is cheating on her with an " unspecified party" (who we learn is another of our wives). Her friendship with Joanne is almost destroyed by jealousy and rivalry, and their journey toward their patch-up is the heart of the show.
Beezus Horowitz: Female, 49-55, the oldest of the wives, trying to hold onto her youth, elegance, and wealth. Even though she doesn't like it, she acts as the matriarch of the group. When Joanne has troubles, Beezus stirs the water as only she can to create mayhem and chaos.
Lulu Delecante: Female, mid-40s, the mysterious wife with a mysterious sort of English accent. She is a Sultana, and despite her divorce from the Sultan, she still uses the title, which she uses to hide a dire secret from the rest of the wives. Always first to recommend a pharmaceutical pick-me-up, Lulu helps steer Joanne through her early rocky period with the other wives.
Penny Quinoa St. Simone: Female, 30, cute and spirited, this wife is a follower, married to Theodore St. Simone (of questionable sexuality). Penny is both quick-and-dim-witted, a pleaser, and sells a 10-day cleanse called " Babylicious."
Man: Male, 30s-early 40s, plays all the men in the show:Anderson Johnson, Royce Bellini, Theo St. Simone, a swishy hairdresser, a bedazzling TV host, a snooty shoe salesman, a mysterious gypsy, and so much more. Must be very adept at multiple characters and quick changes.
Sample Music
Amazing
Break the Rules
Bounce it
I Forgive you
Act 11 Finale
Sample Script
Instrumentation / Rentals
Piano, Keyboard, Bass, Drums
Production Costs
14% of Box Office