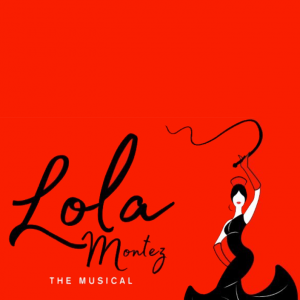 Lola Montez was the Madonna of the 19th century.
A popular singer and performer who outraged the establishment by taking off some of her clothes on stage in her famous spider dance.
"They storm my web and beg a night of bliss. Then die in rapture at my poisonous kiss. Beware. Beware"
When the aging temptress left her celebrity lovers in Europe and toured the gold fields of Ballarat - miners covered her stage with Gold nuggets.
But the Editor of the Ballarat Times gave her act a panning. Lola responded by horsewhipping him in public.
Lola Montez the musical was first staged by the Elizabethan Theatre Trust in 1958.
It has been revived more than 100 times by community theatres since then.
The musical in the style of a Rodgers and Hammerstein production includes the most recorded song in Australian musical theatre history - Be My Saturday Girl.
Sadly all three of the original writers have passed away but now 60 years since it opened Lola is back! lolamontez.com.au

HOLD THE FRONT PAGE OF THE BALLARAT TIMES
Diadem Productions, together with Riverside Theatres, is thrilled to announce the 60th Anniversary Celebration Concert of this Australian musical masterpiece on Saturday 2 June 2018 as a one night only event. Tickets are available from riversideparramatta.com.au from March 28.
LOLA MONTEZ has a fresh and hilarious new script based on the original, sparkling new orchestrations and a brand new song for Lola, written by the original and recently departed composer, Peter Stannard. The show is ready to wow the world with style, pizazz and send critics and audiences out into the streets tapping their feet & humming its tunes once more!
Originally produced in 1958, LOLA MONTEZ sold out seasons in Sydney, Melbourne and Brisbane, and had chart-topping songs on the Aussie hit parade which outsold Elvis Presley. The show was adapted for television, the cast album was the first stereophonic recording ever made in Australia and LOLA MONTEZ was the talk of the town for years.
With original toe-tapping music by the late Peter Stannard, lyrics by Peter Benjamin and a book by Alan Burke, the musical tells the outrageous true story of the powerful femme fatale, Lola Montez, during her visit to the goldfields of Ballarat in 1854.
Unhappy as a lower middle class young Irish woman married to a military man, she declared her independence, reinvented herself as a Spanish Dancer extraordinaire, and as Lola Montez took on the world. A great beauty of her time Lola's famous lovers included writer Alexandre Dumas, pianist/composer Franz Liszt and King Ludwig I of Bavaria with whom she lived at court, was made a Countess and practically ran Bavaria for two years!
Her Spider Dance performance caused a sensation throughout Europe, the USA and, yes, Australia. When the critic of Ballarat Times dared to give her a bad review, she got out her whip and attacked him in the street in broad daylight! She was one of the strongest women of any time. Sensuous, highly intelligent, nobody's fool and subservient to no man, Lola Montez joins the ranks of other remarkable women like Florence Nightingale, Eva Perón, Madonna and Lady Gaga who refused to conform to societal beliefs that women were of lesser value than men.
Lola was a truly independent 21st century woman, 160 years ago.
Producers Stephen Helper and Meredith O'Reilly are thrilled to bring this forgotten story back to life. "This brilliant, supremely entertaining Australian show telling the true story of the fabulous strong woman Lola Montez has been sitting on the shelf for far too long," they said.
An all-star cast has been assembled to bring LOLA MONTEZ back to life. In the title role is the vivacious multiple award-winning Debora Krizak. Debora's recent credits include her show-stealing take on Fräulein Kost in the Melbourne and Sydney seasons of Cabaret, blonde ditz Erma in Anything Goes and world-weary Sheila in the Helpmann Award-winning musical A Chorus Line, for which she was nominated for a Best Supporting Actress Helpmann, Sydney Theatre and GLUG awards.
Australian TV and radio icon, and Skyhook Red Symons returns to the stage to play the curmudgeonly, cynical editor of the Ballarat Gazette, Seekamp, while musical theatre veteran and West End star Peter Cousens (Les Miserables, Phantom Of The Opera,) plays goldminer Smith. The role of Lola's manager Sam is being played by Scott Irwin, most recently seen as Mack in the Hayes Theatre Co production of Mack and Mabel and previously in Beauty and The Beast as Gaston.
Award winning actress Genevieve Lemon (Billy Elliot, Priscilla Queen of the Desert) will be playing Rose, the town Madam. Playing the roles of young lovers are Stefanie Jones, seen recently in Once and as Liesl in The Sound of Music for which she received a Helpmann Award nomination, and Joel Granger who performed to great acclaim in Brigadoon and Big Fish. Gisela, Lola's maid, is being played by Caitlin Berry (Melba at the Hayes, South Pacific), and Kaeng Chan, seen in Muriel's Wedding and Miss Saigon, is the flustered and excited theatre manager Crosbie.
Luke Joslin, in the dual roles of Wilson and the Sheriff, played lead roles in The Play That Goes Wrong and Avenue Q (Helpmann Award), and Josie Lane plays Cherry/Ensemble. Josie's one-woman cabaret, Asian Provocateur, won Best Cabaret at the 2015 Sydney Theatre Awards. Newcomer Brendan Xavier, a recent AIM graduate, plays exuberant goldminer Jocko.
LOLA MONTEZ also boasts a stellar creative team. Director, producer and founder of The Follies Company, Stephen Helper brings an abundance of experience after spending 40 years as a director/producer of musical shows from Broadway to Darwin and all points between. He co-conceived the worldwide smash Smokey Joe's Café and is working towards a Broadway production of A Sign Of The Times which he wrote, directed and produced to critical acclaim in Sydney. His show Syncopation toured to 40 Australian theatres and Cafe Rebetika! which Stephen also wrote, directed and produced played two seasons at the Arts Centre Melbourne and at the Sydney Opera House. For Lola, he has thoroughly revised, reinvigorated and provided additional material for the book with the authors' permission and delighted approval.
Choreographer Paul Mercurio is best known for his leading role in the worldwide hit film Strictly Ballroom and he was an acclaimed dancer and choreographer with Sydney Dance Company for a decade. Paul is well known and loved as a TV chef and as a judge on TV's Dancing With The Stars. Craig Renshaw (Phantom Of The Opera, Showboat, Pirates Of Penzance) brings his extensive expertise as Musical Director. Producer Meredith O'Reilly's co-producing credits include Guy Noble's Karaoke The Musical, Ruthless! with The Theatre Division and numerous self-produced cabarets in Sydney and Melbourne.
Now is the time to bring back this incredible, refreshed Australian musical, far too long confined to the dusty shelves of forgotten archives and give her a 60th Anniversary Party that will once again light up the stage and have audiences stomping and cheering!
Video
Authors
Related Shows
Photos
Cast
9 Principals. 7 Small roles and chorus.
Sample Music
Lola Compilation from Sound of Music show.
Instrumentation / Rentals
Flute ( picc.opt alto sax), oboe, 2 clarinets ( alto and tenor sax), bassoon, 2 horns, 2 trumpets, trombone, percussion, piano (optional celeste), strings.
Production Costs
14% of Box Office.