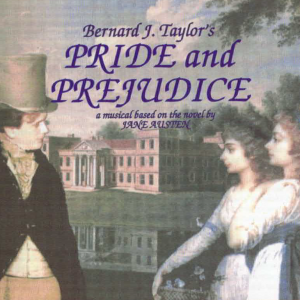 This musical adaptation of the world's favourite romantic comedy has been staged with great success around the world.
It has gorgeous music and 11 fantastic roles for woman (most with solos). From the dim Mrs Bennet, her five daughters, the formidable Lady Catherine and the bitchy Caroline Bingley.
Of course there is the delightful Elizabeth Bennet whom Jane Austen described as as quite the most delightful creature as ever appeared in print.
Then there is the brooding Mr Darcey and the classic comic role of Mr Collins.
This was the first musical licensed by David Spicer Productions in 1998.
Video
Authors
Related Shows
Photos
Plot / Synopsis
JANE AUSTEN'S story of the Bennet family, centred on the relationship between the proud aristocrat Fitzwilliam Darcy and the high-spirited Elizabeth Bennet, is one of the most enduringly popular novels of all time and has had a far-reaching influence on all romantic fiction right up to the present day.
As the story opens, the Bennet family of Meryton receives news that a rich and single young man, a certain Mr Bingley, has bought the grand estate of Netherfield. Mrs Bennet, who is anxious to see her five daughters well married, urges her husband (with added encouragement from some of the daughters) to make the acquaintance of the new tenant of Netherfield as soon as possible (SEE HIM TODAY!).
Jane, the eldest and prettiest of the daughters, is encouraged to make more of an effort to win a husband for herself, but Jane is convinced that stratagems have no place in true romance (NO DESIGNS ON LOVE).
Mrs Bennet is becoming increasingly anxious about getting her daughters married (FIVE DAUGHTERS) because, having no male heir, the family will lose the estate on the death of Mr Bennet to his young cousin, Mr Collins. Shortly after the news of the arrival of the new tenant of Netherfield, the daughters prepare excitedly for a bell at which they are to meet Mr Bingley and his friends (AT THE BALL TONIGHT).
At the ball, the exhilaration of the dance (ASSEMBLY WALTZ) sets the scene for a romantic encounter and Bingley is quickly smitten by Jane, who delights in his attentions (BEING HERE WITH YOU). Mr Bingley's friend, Fitzwilliam Darcy, makes a less favourable impression on all concerned with his aloof manner and disparaging remarks about others at the ball - particularly about Elizabeth, who overhears some of his disdainful comments about her.
At a subsequent social evening, where the girls take turns in playing piano (PRIDE AND PREJUDICE THEME - REGENCY PIANO VERSION), Elizabeth gets her revenge by spurning Darcy's attentions and indirectly condemning him in song as she performs for the guests (A MAN WHO'S PROUD AND VAIN).
Darcy suddenly finds himself smitten by Elizabeth (ISN'T IT STRANGE), but keeps his innermost feelings to himself. Elizabeth's antipathy towards Darcy is increased when she meets a dashing young officer, Wickham, who tells her how he has been defrauded and ill-treated by Darcy.
Mr Collins, the heir to the Bennet estate, arrives at the Bennet home looking for a wife (A WOMAN WHO KNOWS HER PLACE).
Meanwhile, Bingley is becoming increasingly ardent about Jane (THROUGH THE EYES OF A CHILD), but is persuaded by his sister and by Darcy that his feelings for Jane are not requited.
Mr Collins proposes marriage to Elizabeth (AN OFFER I MUST REFUSE), but is rejected - and proceeds immediately to propose to Elizabeth's friend Charlotte instead. Mrs Bennet is furiously distraught over Elizabeth's rejection of Mr Collins - and even more so when she hears that Bingley has apparently abandoned Jane and gone to London.
Elizabeth later visits her friend Charlotte and her new husband Mr Collins at their vicarage home, and is introduced to Lady Catherine de Bourgh, Darcy's aunt - a formidable woman who enjoys lecturing everyone on each and every topic that arises, particularly on matters of social propriety (GOOD BREEDING).
Elizabeth meets up with Darcy again at Lady de Bourgh's home and soon afterwards Darcy surprises her with declarations of love and a proposal of marriage (DON'T ASK ME WHY).
However, Elizabeth is not impressed by this proposal (SHOULD I BE FLATTERED?) and castigates him for helping to engineer the split between Bingley and her sister Jane, and for his apparent ill-treatment of Wickham.
But Darcy's account of his actions and his treatment of Wickham - which differs widely from Wickham's account - makes Elizabeth think again (HAVE I BEEN WRONG?) and her feelings towards Darcy begin to soften.
The truth of Darcy's account of Wickham's fecklessness is soon proved when Wickham elopes with Elizabeth's sister Lydia - with no intention of marrying her, and thus threatening the Bennet family with ruin and disgrace. But Darcy, unknown to Elizabeth, uses his money and influence to ensure that Wickham does marry Lydia, much to the relief of the Bennet family (THANK GOD THEY'RE MARRIED!).
Darcy also helps to reunite Bingley and Jane Bennet (SINCE WE SAID GOODBYE) and soon there are plans for another wedding.
Lady de Bourgh learns that Darcy is planning to propose to Elizabeth and she demands that Elizabeth promise she will not marry Darcy (MY DEAR MISS BENNET..) but Elizabeth refuses to g~e her this promise. When Darcy hears of this, he is emboldened to propose once more to Elizabeth (I NEED TO KNOW) and this time he is accepted.
They vow to put aside all past pride and prejudice and start afresh (PRIDE AND PREJUDICE). The story closes with three of the five daughters now accounted for and everyone, apart from Lady de Bourgh, feeling much more positive about the future (FINALE).
Since the album was recorded, a number of new songs - mainly chorus numbers, as well as songs for Mr Bennet, Wickham and Caroline Bingham - have been added to the score of the show.
Cast
A show with a number of prominent roles for old and young, it also has plenty of chorus work, with five new chorus numbers added to the score since the CD was recorded. It requires a cast of at least 25, and preferably a lot more.

Primary characters:
Elizabeth Bennet, her father's favourite daughter
Mr. Fitzwilliam Darcy, generally thought to be aloof and snobbish
Mrs. Bennet, middle aged and prone to hysteria
Mr. Bennet, her long suffering husband
Lydia Bennet, the rebellious daughter
Jane Bennet, the sweet and pretty daughter
Mr. Bingley, a friend of Darcy's
George Wickham, a smoot talking rogue
Mr. Collins, a priggish and pompous clergyman
Lady Catherine de Bourge, a haughty grande dame

Secondary characters:
Kitty and Mary Bennet, Elizabeth's younger sisters
Caroline Bingley, Mr. Bingley's sister
Charlotte Lucas, a friend of Elizabeth
Isabella
Charles Bennet

Minor Characters:
Col. Foster
Anne de Bourge
Housekeeper
Footman
Mrs. Charles Bennet

Chorus (minimum of 12)
1st, 2nd & 3rd Servant (At the Ball), Toffs & Plebs (What An Hour At Church Will Do), Soldiers, Townsfolk, Girls (Soldiers' Song), Pemberley Staff (The Finest Man We Know), etc.
Sample Music
Five Daughters. ( Mrs Bennet)
At the Ball Tonight.
A Woman who Knows Her Place. ( Mr Collins).
Pride and Prejudice. (Elizabeth and Mr Darcy)
Sample Script
Instrumentation / Rentals
Horn, Trumpet, Clarinet, 2 violins, Cello, Bass, Percussion, Oboe, Flute, Synthesizer.
Production Costs
14% of Box Office.