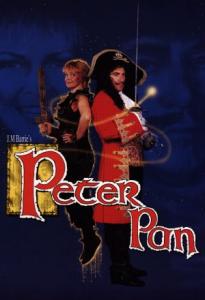 " Sheer Magic in every sense of the word"
Peter Pan is the legendary tale of the boy who never grows old. This adaptation is recognised in England as the best available of J.M.Barrie's masterpiece. First produced professionally in 1993 is has been revived dozens of times
A play with music it has all the delights of the original story Peter Pan, Tinkerbell, Captain Hook and the hungry crocodile. As well there is the hilarious Mermaid Calypso and the percussion rock dance of the Red Indians.

Let the critics speak for themselves "What child does not envy Peter Pan's secret powers or his secret Neverland where he bravely fights the wicked Captain Cook? What youngster does not dream of Mermaid Lagoons, Red Indian encampments, fairies and crocodiles which tick and tock to the rhythm of a clock they had digested earlier. This production is a winner because it retains all the fun of the original story" " A show which features flying children, Pirates and Red Indians as well as a malevolent crocodile holds all the cards. But it is how they are dealt which counts and the songs were witty and tuneful and the script fast and flowing"
Authors
Photos
Cast
Minimum of 10. Maximum unlimited. Peter Pan, Mr Darling/Captain Hook, Mrs Darling/Big Chief Squatting Cow, Wendy, Michael, John, Nana/Crocodile, Liza/Tiger Lily Chorus: The Lost Boys, Pirates, Mermaids, Indians.
Instrumentation / Rentals
2 keyboards, Bass Guitar, Drums and Percussion. Now also available with CD Backing Track.
Production Costs
14% of Box Office.