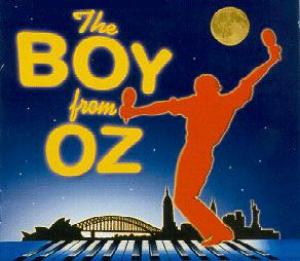 "My songs are my biography"…Peter Allen
The Boy From Oz is the most successful Australian musical ever and the first to make it to Broadway. It is a musical biography/tribute to the late great Peter Allen.
Peter Allen was born in the outback Australian town of Tenterfield in 1944. He made his entertainment debut at the age of 5 impersonating Al Jolson. As a teenager he became a pop star and then toured Asia. There he met Judy Garland who took him to Londonwhere he met and become engaged to her daughter Liza Minnelli. In the US Peter enjoyed the highs of success by winning an Oscar, selling out performances in Radio City Music Hall, and receiving adulation when he returned to Australia. There were also plenty of lows … breaking up with his wife, staging a Broadway flop, the death of his partner and his own battle with illness. Peter Allen had an extraordinary life which producer Ben Gannon realized had the potential to become a magnificent musical and with Robert Fox they turned it into the smash hit it became.
ABOUT THE SHOW
The Boy From Oz is a class above all other 'jukebox' musical. The late Nick Enright. skillfully weaved his plot around the life and complexities of Peter Allen. The songs and lyrics sit easily with the rhythm of the piece and with the characters as they enter and re-enter his life, be they dead or alive. It leaps, as does Peter himself, from past to present and back to past all within the familiar context of one of his energy packed concerts.
ABOUT PETER ALLEN.
THE BOY FROM OZ HALL OF FAME. BELOW ARE SOME OF THE BOYS WHO HAVE PLAYED PETER ALLEN.
Video
Authors
Related Shows
Photos
Cast
Major Principals
Peter Allen……..Must be able to dance and sing and do anything.
Young Peter Allen….Aged about 10. A junior tap dancer.
Judy Garland….Charismatic diva aged in mid 40's.
Marion Woolnough….Salt of the earth, mid 50's and up.
Liza Minnelli….A star is born. 20 something spunk.
Greg Connell…Sexy Cowboy.
Trio…Karen, Shena, Linelle…dazzling singers and dancers.
Smaller parts
Dee Anthony…Peter Allen's US agent.
Valerie Anthony…Dee's wife. Peter Allen fan.
Dick Woolnough… Peter Allen's alcoholic father.
Brian Henderson…Young TV host. ( Not in US edition )
Josie…Manager of the New England Hotel. ( Not in US Edition )
Chris Bell…Young song writer and member of the Allen Brothers.
Wally Bell… Peter's first manager. Mid 40's up.
Cameos.
Rich Woman In Hong Kong, Reporters, Choreographer…type cast. Director's Voice. Director's Assistant…anyone you like
Bonnie…Member of Broadway production team. Record Producer…Hard nosed businessman.
Trick…Peter Allen's flat mate.
Chorus/Choir.
A fabulous selection of roles in Country Hotel, Disco, HK Night Club, Radio City Music Hall performance, TV Bandstand studio, Auditionees, Broadway Gangster show, Australian Bicentennial extravaganza and Rio Carnival
Sample Music
Instrumentation / Rentals
George Brodbeck has completed a magnificent score for the show. Recommended band size is 12. You can extend this to 18. And if you have a thoroughly brilliant pianist it can be performed with 6. IN DETAIL: 12 part band. Most Preferred is the original 12-piece: 1. Reed 1: Alto Sax, doubling Piccolo & Flute 2. Reed 2: Tenor Sax, doubling Flute & Clarinet 3. Reed 3: Baritone Sax, doubling Clarinet & Bass Clarinet (this part includes most of the more difficult clarinet parts) 4. Trumpet 1: Highest note is written "D" & a few optional higher notes. 5. Trumpet 2 6. Trombone 7a. 2 Stave Orchestra Piano: for Pianists who are not conducting. OR 7b. 3 stave Piano MD: for Piano playing band leaders (and also smaller groups, see below) 8. Keyboard 1: playing many sounds, mostly strings, but many others incl. Harp, Clavinet, Organ, Tuba, English Horn, etc.) 9. Guitar: Acoustic, Electric and Banjo (if no Banjo it needs to be imitated on El. Gtr.) 10. Bass: Acoustic and Electric (preferably 5-string) 11. Drums 12. Percussion: tuned perc (Glock, Xylo, Vibes), Timpani, and all most common un-tuned percussion. 18 part band Larger Bands without doubling reed players: 1a. Sax 1: Alto Sax (without the woodwind sections) 2a. Sax 2: Tenor Sax (without the woodwind sections) 3a. Sax 3: Baritone Sax (without the woodwind sections) Woodwind 1: Piccolo & Flute (can be played by 2 people if necessary) Woodwind 2: Flute and Clarinet (can be played by 2 people if necessary) Woodwind 3: Clarinet & Bass Clarinet (can be played by 2 people if necessary) Please note: To make these added 3 woodwind parts more interesting to play, the original 12 piece woodwind sections have been extended to include additional woodwind playing. Plus: The above 12 piece brass and rhythm section. Bands with Saxophone players but no Woodwind Players: Keyboard 3: contains all the Woodwind entries in keyboard form and requires Piccolo/Flute, Clarinet & Bass Clarinet sounds exclusively. Plus: 1a, 2a, 3a, 4, 5, 6, 7a or 7b, 8, 9, 10, 11, 12 Smaller Bands: The smallest recommended Band line up is: 7b. 3 stave Piano MD (requires a competent pianist who can interpret the 3 stave information to make a complete musical picture) 8. Keyboard 1 9. Guitar: Acoustic, Electric and Banjo (if no Banjo it needs to be imitated on El. Gtr.) 10. Bass: Acoustic and Electric (preferably 5-string) 11. Drums 12. Percussion: tuned perc (Glock, Xylo, Vibes), Timpani, and all most common un-tuned percussion