Cenarth Fox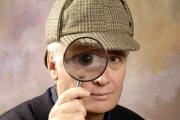 Cenarth Fox has worked as a primary school teacher, secondary school teacher and as a curriculum consultant.
He appeared (fleetingly) in television soap operas, over acted in professional pantomimes and appeared in plays, musicals and operas.
Cenarth has organised and directed dozens of school music festivals and community theatre productions.
He has been a soloist with the Melbourne Symphony Orchestra and conducted choirs and swing ensembles.
Cenarth currently works as a composer, writer and feeder of felines.
His shows have been staged in 43 countries....but who is counting?